Call for world governments to destroy ivory stockpiles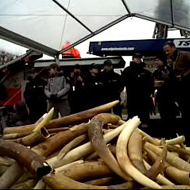 France destroys 3.5 tonnes ahead of Conference on Illegal Wildlife Trade

Under the shadow of the iconic Eiffel Tower, 3.5 tonnes of ivory has been crushed and incinerated, is a move aimed to bring an end to the killing of elephants.
The destruction of the ivory by the French Government, comes ahead of the Conference on Illegal Wildlife Trade, in London on Wednesday and Thursday (February 12 and February 13).
International wildlife charity the Born Free Foundation (BFF) has welcomed the move.
Its president, Will Travers OBE said: "By destroying this ivory, France is sending two key messages to the global community: that the illegal ivory trade is completely unacceptable and that ivory should never be allowed to enter the marketplace, where it fuels demand and contributes to the death of both elephants and the wildlife rangers trying to protect them."
The BFF is now urging other Governments to destroy their growing stockpiles of seized ivory.
It said corruption in some countries is seeing some ivory sold back to traffickers. 
In June 2012, Gabon burnt its entire 4.8 tonne stockpile. A year later the Philippines crushed almost 5 tonnes, while the United States crushed almost 6 tonnes in November last year. Six tonnes of ivory was crushed by China last month.

"As many as 50,000 elephants a year are being brutally poached for their ivory tusks", Mr Travers said.
"It is the responsibility of the global community to stamp out this trade immediately. Destroying stockpiles and removing them from future use is a vital step in this process.
"The next step is to raise the necessary funds to implement the African Elephant Action Plan – a blueprint for elephant conservation across the African continent which has been approved by the 178 Parties to the Convention on International Trade in Endangered Species (CITES) and adopted by all 38 African elephant range States.
"As far as I am concerned, a future without elephants is a truly appalling prospect and we simply must find the funds to implement the Action Plan before it is too late."



For more information on the ivory trade, visit www.bloodyivory.org

To help fight the crisis, visit www.bornfree.org.uk
Image courtesy of the Born Free Foundation