Battersea launches virtual puppy training programme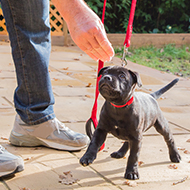 Classes designed to help new owners with lockdown puppies

UK charity Battersea has announced that it will be running a new six-week virtual training programme to help owners train and socialise their new puppies during lockdown.
The launch of the programme comes after a survey carried out by the charity on 2,000 cat and dog owners revealed that nearly 50 per cent of people who adopted a pet during lockdown 'sometimes regretted' their decision.
COVID-19 restrictions have made it difficult for owners to socialise their dogs by taking them out to meet other dogs, and face-to-face behaviour classes have been very limited, if not completely unavailable.
Battersea's training classes run over Zoom and will help puppies develop a good behavioural foundation by covering topics such as learning to walk nicely on a lead, learning to settle and how to come when called.
Battersea's canine behaviour and training manager, Nathalie Ingham, said: "One of the great things about training virtually is that anyone can take part no matter where in the world they are. We're encouraging everyone living with their puppy to join in with the training, including children. It's such a great way to bond with your dog and hopefully a fun group activity, not just during our classes, but for the weeks and months ahead when you can continue teaching your dog new tricks and skills."
The next classes begin on 8 October, 26 October, and 10 November, with morning and afternoon sessions available. Dogs must be aged five months and under and currently each session is limited to only five dogs.
Spaces are expected to fill fast, so any owners hoping to register or find out more should visit the Battersea website.