Cats Protection to host feline behaviour conference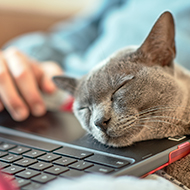 Online event will feature informative sessions and engaging Q&As.

Cats Protection is set to host an online conference focused specifically on feline behaviour.

The one-day event, to be run in conjunction with The Webinar Vet, will feature informative sessions and engaging Q&As focussing on an array of topics, including:
how cats learn

how cats communicate


a discussion panel on the future of cats and the biggest welfare issues they face.
"Cats have subtle ways of communicating and are therefore renowned for being hard to read," said Daniel Cummings, Cats Protection's behaviour officer. "We're constantly being asked why they behave in the way they do and it's hard to find all this information in one place which is why we wanted to hold an affordable and accessible event for anyone interested in understanding feline behaviour."

According to the charity, the conference is ideal for veterinary professionals and everyone working in the animal welfare sector - as well as budding cat behaviourists. It is also suitable for those whose work focuses on cats indirectly, including those studying for a relevant qualification.

The day will count as six hours of Continuing Professional Development, with speakers including a range of cat behaviour experts such as welfare advocate Sarah Ellis, co-author of 'The Trainable Cat'.

The event starts at 9.30 am on 11 September, and the content will be available for another six months after the event for no extra fee. Tickets can be purchased at www.cats.org.uk/feline-behaviour-conference at a cost of £50 plus VAT.