Conservationists express delight at beaver trial success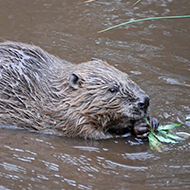 Beavers introduced to the River Otter will be able to remain permanently.

Wildlife conservationists have expressed their delight at the successful completion of a trial to reintroduce beavers to the wild.

The government hailed the five-year beaver trial on the River Otter in Devon a success. The beavers will now be able to remain in the river permanently and naturally expand their range.

Peter Burgess, director of conservation at Devon Wildlife Trust, described the government's decision as "the most ground-breaking" for England's wildlife for a generation.

"Beavers are nature's engineers and have the unrivalled ability to breathe new life into our rivers. Their benefits will be felt throughout our countryside, by wildlife and people," he said.
The project started in 2015 when two family groups of beavers were successfully bred and dispersed throughout the River Otter. The catchment included up a total of 15 territories and 28 dams.

Defra reports that the trial has brought a wealth of benefits to the local area and ecology, including enhancing the environment at a local wildlife site, creating wetland habitat and reducing flood risk for housing downstream.
.
Environment minister Rebecca Pow said: "Thanks to the hard work of the Devon Wildlife Trust and their partners, the River Otter beavers reintroduction trial has proven highly successful - improving biodiversity and water quality, mitigating flooding and making the local landscape more resilient to climate change.

"We are firmly committed to providing opportunities to reintroduce formerly native species, such as beavers, where the benefits for the environment, people and the economy are clear."
Once native to Britain, beavers were hunted to extinction around 400 years ago. The government is expected to consult on a strategy for the management of wild beavers - as well as further releases - later this year.