Born Free calls for overhaul of Zoo Licensing Act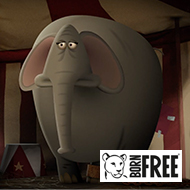 Charity says regular financial assessment should be key to the licensing process.

International wildlife charity Born Free is urging the government to review and reform the Zoo Licensing Act 1981 in a bid to "avert an animal welfare crisis".

The charity says that a review of the existing legislation would "make the multi-million-pound zoo industry more accountable, transparent and humane."
It follows the release of Born Free's new animation - Creature Discomforts: Life in Lockdown - which uses human reflections on COVID-19 to highlight the plight of wild animals living in captivity.
Born Free is calling for the publication of zoo inspection reports and annual species data, including data on causes of death. Currently, it is not required for this information to be declared externally, while inspection reports are only available through a Freedom of Information process.

The charity is also calling for greater conservation participation from zoos, and a clear published audit of each zoo's conservation and education commitment. It says that while zoos are legally required to participate in education and conservation, the required level is minimal and the process is neither transparent nor consistent.

Dr Chris Draper, Born Free's head of animal welfare and captivity, said: "When it was enacted in the 1980s, the Zoo Licensing Act was a progressive step to provide a minimum level of protection for animals in zoos.

"But time has marched on and it is clear that more is now needed; not only to meet the complex needs of wild animals in zoos, and to avert an animal welfare crisis if and when zoos close, but also to match public expectations of the role of zoos, allowing people to make clear judgements about whether zoos are – or are not - contributing meaningfully to conservation and education".

Other measures proposed by Born Free include the centralisation of licensing of zoos and a permanent zoo inspectorate. It says that a centralised licencing body would allow for surveillance of the whole zoo sector, and avoid serious, long-standing concerns about potential conflicts of interest.

Born Free is also calling for an assessment of medium to long-term financial viability, plus mandatory zoo insurance bond in the event of closure or crisis.