Rare heart bone discovered in chimpanzees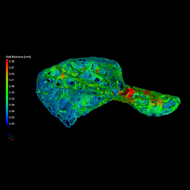 'Os cordis' only found in very few species.

University of Nottingham researchers have discovered that chimpanzees have a rare bone in their heart called an 'os cordis'.

It is thought that the discovery, measuring just a few millimetres in size, could help to manage the health and conservation of chimpanzees.

Scientists say it is a particularly rare find as so few species have an os cordis. The presence of the bone is normally associated with heart disease.

"The discovery of a new bone in a new species is a rare event, especially in chimps which have such similar anatomy to people," explained lead author Dr Catrin Rutland. "It raises the question as to whether some people could have an os cordis too."
The find was made possible using several techniques, including an advanced imaging method called micro-computed tomography. This enabled the hearts to be scanned at much higher magnifications than standard hospital or veterinary CT scans.

Many bovines, including cattle, ox and buffalo, have a heart bone but it is often removed by butchers. Some camels, dogs, sheep and otters also have a heart bone.

Heart disease is commonplace in wild chimpanzees, therefore understanding their hearts is vital to advance their health and conservation.

Researchers say the 'os cordis' heart bones were more likely to be present in chimps with idiopathic myocardial fibrosis – a type of heart disease found in chimps and humans.
They found that cartilage was present in addition to the bone, giving insight into the mechanisms via which the growth started.

The function of the os cordis is not yet known, but researchers believe the bone could support the essential heart valves, develop due to heart disease, or even alter the electrical system which controls the heart.

"This research has brought together researchers and veterinary professionals, working on a common aim to advance chimpanzee health and conservation," adds Dr Rutland.

The study is published in Scientific Reports.
Image (C) University of Nottingham.