New RCVS webinars to address COVID-19 leadership challenges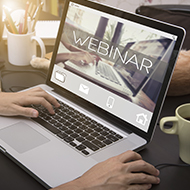 Sessions will offer practical advice and guidance to support the veterinary team.

The RCVS has announced the launch of a free webinar series for veterinary professionals to address the leadership challenges associated with the COVID-19 pandemic.

The webinar series has come about through a collaboration with the Tavistock Institute, a not-for-profit organisation that applies social science methodologies to contemporary issues and problems.

Each hour-long session will be led by an expert in the field of organisational development and change, and listeners will be urged to consider the wide-ranging effects the pandemic has had both in their workplaces and their lives.

Each week the webinars will tackle a specific theme, beginning with 'exploring an building on resilience'. Listeners will be given advice, guidance and coaching to enable them to grow their understanding and confidence, so that they feel better placed to negotiate, lead, or support others.

"What was just a few weeks ago unprecedented has now become our new normal," explained Oliver Glackin, RCVS leadership initiatives manager. "We have entered a period of uncertainty and turbulence which will bring significant changes – if it has not already done so to our personal and professional lives.
"To help make sense of this at an individual, group and organisational level, I'm really pleased to have been able to join forces with the Tavistock Institute which has a long track record of helping guide people and businesses through periods of upheaval."

The following free lunchtime sessions will take place weekly, starting on Thursday 2 July, at 1 pm.


exploring and building resilience with Anne Benson – Thursday, 2 July

working with change with Dr Leslie Brissett – Thursday, 9 July

the emotional impact of leading with Dr Sadie King – Thursday, 16 July

working and leading through times of uncertainty in work and the world around you with Dr Dione Hills – Thursday, 23 July


Oliver added: "Veterinary professionals are known for their adaptability, resourcefulness and creativity and these sessions should complement this by putting the complex and all-enveloping nature of our shared circumstances into context before giving practical advice and coaching so that all members of the veterinary team can help themselves and support colleagues, teams and animal owners, through these uncharted waters."

To register, or to be kept up-to-date with further information on the seminars and presenters as they are posted, visit rcvs.org.uk