Further decisions to EMS placements announced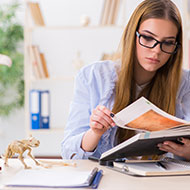 RCVS and Veterinary Schools Council announce further supportive measures for veterinary students

Further measures to curb the spread of COVID-19 coronavirus and its associated restrictions impact on veterinary students have been announced by the RCVS.

Before the government 'lockdown', the RCVS reduced the number of weeks extra-mural studies (EMS) that final-year students must undertake to 30 weeks. This was owing to the difficulties that may be involved in finding and completing placements before graduation.
Now, in response to the restrictions that have been introduced since then, the RCVS has further reviewed EMS requirements concerning students currently in their fourth year and below.
The decision is that current fourth-year students should not be prevented from graduating providing they have completed their 12 weeks pre-clinical EMS and at least 50 per cent (13 weeks) of clinical EMS. This is in addition to demonstrating that they have achieved all RCVS Day One Competences.
The decision was reached by the RCVS' COVID-19 Taskforce in collaboration with the Veterinary Schools Council (VSC).
"Although the longer-term impact of the restrictions on veterinary business is currently unknown, it is reasonable to assume that there may be longer-term challenges around EMS placements that may continue beyond the time at which restrictions are revoked," commented Sue Paterson, chair of the RCVS Education Committee and a member of the COVID-19 Taskforce.
"The impact of the constraints imposed will differ across different vet school curricula. However, the impact on all students currently in their fourth year of study is likely to be significant."

She continued: "We understand that the vet schools will do all they can to continue to provide a world-class veterinary education to their students during the pandemic and do their best to support their students in completing their EMS. These efforts are very much appreciated. We would also like to thank members of the Veterinary Schools Council for discussing and agreeing to implement these temporary changes."

The COVID-19 Taskforce also considered the impact of the pandemic and its restrictions on third-year veterinary students. The decision was made to keep this under review because, while there may be an impact on these students in terms of the EMS they can complete, this is likely to be less than for those in their final year.

Third-year veterinary students

It was also discussed and agreed that, as veterinary schools may need to introduce alternative assessment methods for their students, then they would need to notify the RCVS regarding the nature of the changes. This is in addition to the quality assurance measures being put in place to ensure standards are not compromised.
The RCVS said that these changes would then be monitored by the RCVS Primary Qualifications Subcommittee, to ensure they meet with the College's accreditation standards.
"We recognise that the constraints resulting from the COVID-19 pandemic mean that vet schools will need to implement alternative methods of assessment and strategies for implementation," Sue Paterson continued.
"While we do not prescribe the specific approach that should be used for assessment, as different approaches may be appropriate depending on the curriculum model, our accreditation standards do require that the approach to assessment is robust, valid and reliable in providing assurance that Day One Competencies have been achieved by students upon graduation."
Veterinary nursing students
The RCVS Veterinary Nurses (VN) Council is set to meet next week to consider if further changes regarding veterinary nursing students are possible in response to the ongoing pandemic.
Further information about the COIVD-19 pandemic and its restrictions on the veterinary professions can be found at www.rcvs.org.uk/coronavirus