Veterinary practices urged to complete COVID-19 survey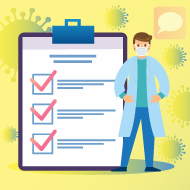 Survey will shape the RCVS' ongoing response to the crisis
Veterinary practices are being urged to complete an RCVS survey 'as soon as they can' to help the College gauge the impact of the COVID-19 coronavirus outbreak on clinical practice.
The survey, which has been emailed to veterinary practice representatives across the UK, will also help the RCVS shape the College's ongoing response to the crisis, including its discussions with the government.
It includes questions on how and whether the pandemic has affected the practice's approach to providing 24/7 emergency care, how the pandemic has affected turnover; and whether staff have been furloughed.

The RCVS is asking that just one person in each practice who is best placed to answer the questions completes the survey. The data collected will be anonymous, although the results of the survey will be shared with the government and other veterinary organisations and will also be published.
"We have received a great deal of anecdotal evidence via emails, contacts and social media on how the COVID-19 pandemic, and the restrictions put in place by the UK Government in response to it, is affecting veterinary businesses and professionals" explains RCVS CEO, Lizzie Lockett.
"However, in order to have the evidence-base to take a well-informed view of how it is impacting the profession, we would urge representatives from practices across the UK to complete this survey as soon as they can. It is crucial that we have this information to help further RCVS policy decisions and ongoing conversations with government, where appropriate."
She continued: "We recognise that this is an extremely difficult time for everyone and completing a survey may not be at the top of your list of priorities. However, those who do complete the survey will be making a vital contribution to helping us shape the most effective response to the unprecedented challenges we face. Reflecting this, we anticipate re-running the survey to track the situation on the ground over the coming weeks and months."
As the data must reflect a specific point in time, the deadline for completing the survey is
6 pm on Tuesday 7 April.
If any UK veterinary practice believes they have not received the survey via email, please contact Anthony Roberts on a.roberts@rcvs.org.uk for checks to be made.