Clinician selected for leading female researcher development programme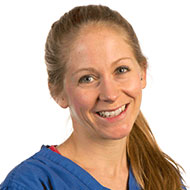 RVC's Dr Abbe Crawford selected for fourth round of SUSTAIN

An RVC clinician has been selected for a leading female researcher development programme.

Neurology and neurosurgery clinician Dr Abbe Crawford has been selected for the fourth round of SUSTAIN, a training and development initiative, which supports female researchers in their first independent position within the scientific community.

Dr Crawfords research centres on brain abnormalities associated with Duchenne Muscular Dystrophy (DMD), the most common lethal genetic disorder diagnosed in childhood. Using various techniques to study brain function in the diseased state, her research aims to understand why DMD patients show abnormal brain function and to ultimately develop therapeutic strategies to overcome these brain deficits.

Being a member of SUSTAIN will allow Dr Crawford to join a network of early-career female researchers. The programme runs for one year and will include mentoring from Academy Fellows, peer-coaching and a series of bespoke training workshops.

"I feel very lucky to be joining the SUSTAIN programme. It is a wonderful opportunity to become part of a supportive cohort of like-minded female researchers and to receive training from leading experts in a range of key, yet often undertaught, areas including mentorship, negotiation, and digital resilience," said Dr Crawford.
"This course comes at an ideal time as I try to develop an independent research programme through my work with colleagues at the Royal Veterinary College. I am confident that the skills, knowledge and support network I will gain from this course will build upon the RVC's ongoing support and allow me to develop and thrive as I begin this exciting chapter of my career."
Professor Jonathan Elliott, vice-principal for research and innovation at the RVC, added: "We are incredibly excited about Abbe's selection in this programme and take great pride in watching her research and career go from strength-to-strength.
"The RVC is renowned for its research excellence and we are committed to supporting all of our colleagues as they pursue their own personal development. In particular, there is an urgent need to develop the research careers of veterinary clinical scientists who work at the interface between veterinary and human health in the way that Abbe is doing".