LOVE Gorgie Farm seeking veterinary volunteers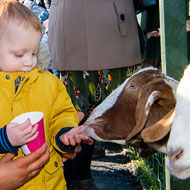 City farm looking to build contingency plan

LOVE Gorgie Farm in Edinburgh is looking for people with veterinary and animal care experience, who would be interested in volunteering to help care for its animals during these difficult times.
The community-owned charity farm opened to the public only last month, but decided to close temporarily amid the COVID-19 pandemic. Its three-person team is working to care for the animals behind the scenes and the farm is now operating as a food bank for the public, delivering free breakfasts to local school children.
In an effort to build a contingency plan to secure the welfare of its animals, LOVE Gorgie Farm is looking for volunteers who would be able to step in if any team members fell sick or needed to self-isolate.
Those interested in volunteering are asked to contact gorgie@l-o-v-e.org.uk
Image (c) LOVE Gorgie Farm.