Blue Cross calls on volunteers to help foster small animals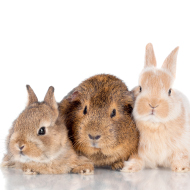 Charity desperately seeking help for rabbits and guinea pigs

Animal charity Blue Cross in Newport is seeking people to help foster homeless small animals such as rabbits and guinea pigs. 

The organisations' Willenhall Street centre currently has a waiting list of 20 guinea pigs and rabbits, all in desperate need of a new home. But the unit doesn't have any on-site accommodation, so is desperately seeking volunteers to foster the animals until a permanent placement can be found.

Blue Cross runs a Home Direct scheme that allows small animals to be re-homed from their current place of residence. However, the isn't always possible for owners who need to find urgent accommodation for their pet. 

One volunteer who is currently fostering two baby rabbits is 32-year-old Laura Drummond. Laura, who saw the centre's plea for foster carers on Facebook, said that she would urge any animal lover to follow in her footsteps.
"I work from home and have plenty of space and by fostering you feel like you're making a real difference and get lots of support from the unit's team.

"Currently I'm fostering some adorable three-month-old rabbits called Binky and Hopper who will be difficult to let go for sure but it's just so rewarding to see animals I've helped head off to a loving new home, and I know there's always more waiting to take their place in my home."

Blue Cross Newport centre manager said: "We desperately need more foster carers like Laura to help us to help more small animals in the area. We currently only have four volunteers who can help us and they are already caring for small animals for us.
"Our volunteer foster carers provide a temporary home and care for our animals until we can find loving forever homes for them. They can also help many small animals to grow in confidence and help us to understand the kind of forever home we need to find for them."
Blue Cross will cover the costs associated with the care of looking after a small pet, including food and veterinary treatment, as well as provide all of the equipment volunteers will need. Volunteers are required to have space for a small pet and time to feed, clean and socialise the animals each day.
Anyone interested in becoming a volunteer can find out more at www.bluecross.org.uk/volunteer or they can call the rehoming and advice unit on 0300 7771590.