Belfast PDSA volunteer fundraising team wins national award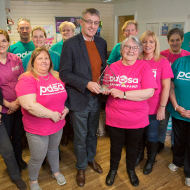 Devoted team recognised for large-scale fundraising events

A volunteer fundraising team from Belfast that has helped raise thousands of pounds for PDSA has received a national award for their efforts.
The group has been led by Valerie Morrison for more than 12 years, organising a number of fundraising events including the annual Bark in the Park event. The fundraiser is attended by up to 5,000 people and has helped to raise £17,200 for PDSA since 2015.
The team were presented with their award for Fundraising Group of the Year by PDSA head of fundraising Nigel Spencer at the Belfast PDSA Pet Clinic on Tuesday 18 February.
Mr Spencer said: "PDSA couldn't exist without our devoted volunteers, and Belfast's dedicated team of fundraisers of have shown incredible commitment to the charity.
"Every year they go to great lengths to organise PDSA's Bark in the Park, and its success is a testament to all their hard work. Last year's event raised £4,500 and was attended by thousands of local dog-lovers, so it was a fantastic achievement.
"Valerie and the team's passion and dedication to the charity is inspiring. They are great ambassadors for PDSA and we would like to say a huge well done for all of their efforts and congratulations on their Fundraising Group of the Year Award!"
Commenting on the group's award, Mrs Morrison said: "We are all absolutely delighted to receive this award. A huge thank you must go to the volunteering group – known locally as the 'Crazy Crafters' – who have been such a fantastic asset to PDSA Bark in the Park! We really enjoy working towards this day and there are a great many laughs along the way."
Image (c) PDSA.