Appeal launched for dog kennels in hostels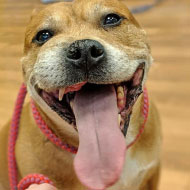 Less than 10 per cent of hostels nationally will accept dogs

An appeal has been launched to raise funds for the purchase and installation of dog kennels in hostels across the United Kingdom.

Animal charity Street Paws has already placed kennels in various hostels around the UK, with the most recent at a night shelter in Wolverhampton. Now the team hopes to expand the scheme across the UK, with the donations they receive also funding dog beds, food and essential items for residents.

Street Paws founder Michelle Southern said the scheme was launched after the charity became aware that owning a dog was a barrier to getting people off the streets. Less than 10 per cent of hostels in the UK will accept dogs, meaning that many owners are denied access to shelter and support, simply because they have a dog.

Michell explained: "As less than 10 per cent of hostels nationally will accept dogs, homeless people were asked to give up their dog to gain a bed. Even in severe weather protocols often do not allow dogs, so many are faced with the grim reality of sleeping out all-year-round in extreme weather to remain with their dogs.

"We decided to approach hostels with a compromise, we would pay for and install specially-built, triple-insulated dog kennels into hostel grounds. This would mean that the owners could keep their dogs with them on site."
But the plan was met with resistance across most areas - until a little staffy called Spin came along.
"Spin belonged to a homeless person who had sadly passed away," said Michelle. "He was then 'adopted' by the staff at Supporting People in Need in Manchester. He quickly won over everyone's hearts and was a positive addition to the team, he was usually found in the hostel having his belly rubbed or being made a fuss of.
"Our vet team paid a couple of visits to see him and a relationship was formed. Sadly, Spin became unwell and died. Everyone was completely heartbroken. Spin had such a huge impact on everyone who knew him and totally changed the perceptions of the values of dog ownership. When we approached the hostel with the idea of installing the kennels they immediately said yes! Such was Spin's impact on their lives - what a legacy to leave behind."
Since the Street Paws Kennel Project was launched, the charity has installed four kennels in Manchester, two kennels in Northumberland and will be placing a further two at a night shelter in Wolverhampton in May. The charity now hopes to raise enough money to install dog kennels at hostels across the country.
Street Paws is a volunteer-led charity that supports the homeless and vulnerably housed with free of charge veterinary care and support in various locations across the UK. Founded in Newcastle in April 2016, the organisation currently provides monthly outreach in the UK across the North East, North West, Yorkshire, Wales and Northern Ireland.
To sign up to the scheme and sponsor a kennel visit www.streetpaws.co.uk. Donors will receive a certificate of sponsorship, Street Paws limited edition pin badge, and a T-shirt along with regular updates throughout the year via email.