Human behaviour project set to improve cattle wellbeing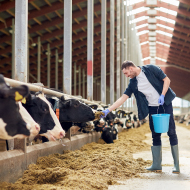 Initiative aims to deliver a set of possible interventions for vets and farmers

Animal health firm Boehringer Ingelheim has announced a new project to gain a deeper understanding of how human behaviour influences the wellbeing of cattle.

The project aims to gather information from farmers and veterinary surgeons across the globe on farming practices and routine pain management interventions. It forms part of a project called Cattle First, an initiative that works to foster health, wellbeing, innovation and sustainability on cattle farms around the world.

A press release reads: 'To be able to improve animal wellbeing, we first need to understand the needs of the animal and how they are affected by human behaviour. However, in order to effect change, we ultimately need to understand the behaviour of people.

'Behavioral science – the understanding of how and why people behave in certain ways – could be helpful. The theories that underpin behavioural science can help in many stages along this journey. In the context of farm animal wellbeing, it can help get to the root causes of what people do and why they do it.'

Boehringer is teaming up with Innovia Technology - a Cambridge-based innovation consultancy - to undertake the project, which aims to develop a set of behaviour-based interventions that may improve cattle wellbeing.

Project lead Laurent Goby, senior global marketing manager at Boehringer Ingelheim's ruminant business, explains: "With the involvement of Innovia's expertise, we expect to better understand farmers' behaviour and motivations and analyse how their choices can affect cattle well-being. This should enable us to design interventions that target the reasons behind these behaviours and are acceptable and feasible to stakeholders.
"This ambitious and innovative project aims to deliver a set of possible interventions for vets and farmers, starting with one specific area of cattle welbeing. We expect that the work along the way will reveal many interesting and important aspects of pain management in cattle which may serve as a basis for practical interventions to ultimately improve cattle well-being," he said.

For more information about the project visit www.farmanimalwellbeing.com