Thousands of pounds donated to fund charity's new rehoming van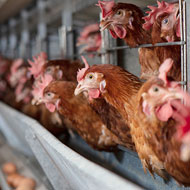 Appeal to fund vital equipment finds success

Tremendous support from the country's chicken enthusiasts over the weekend led to the British Hen Welfare Trust (BHWT) raising £20,000 to purchase a new van after the previous vehicle broke down unexpectedly.
For the past fifteen years, the charity has rescued and rehomed hens across the UK, finding free-range homes for almost 760,000 hens to date. Much of this was done using two large vans adapted to transport the hens, but in late January, one of these vans broke down, hindering the important rescue work that the charity carries out.
BHWT launched an urgent appeal on 12 February, with a message from founder Jane Howorth MBE explaining the situation:
"Our local mechanic confirmed our fears and we had to face the grim reality that our trusty van, which has helped us save so many girls over the years, has reached the end of its days," she said.
"We are now in desperate need of a new van as we have 6,400 hens waiting to be collected from their cages before the end of this month. Without a van, we simply cannot continue our life-saving work."
In order to purchase a new van that could be adapted to suit the charity's unique specifications, BHWT needed to raise £20,000. An outpouring of support from followers led to the goal being met in less than four days. The charity updated the donation page with a statement reading: "We have now reached our target – thank you all so much for your support."