MEPs call for stricter measures to stop illegal pet trade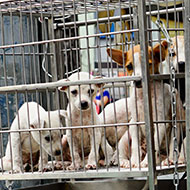 EU-wide action plan encourages universal crackdown

The environment, public health and food safety committee have adopted a resolution which demands action to tackle the illegal trafficking of pets.
Recognising the negative impact that the illegal pet trade has on animal welfare, public health and consumer protection, the European Parliament also wants to clamp down on the affect that the trade has on the function of the EU internal market.
The decision is informed by strong public support for the improvement of animal welfare. According to a public opinion pole by the European Commission, 74 per cent of EU citizens believe that companion animals should be better protected.
Adopted on Tuesday 21 January, the resolution calls for a series of actions to address the illegal pet trade, including:
an EU-wide Action Plan, which outlines the necessary responsibilities to address the illegal trade in companion animals

a Commission proposal to set up an EU-wide mandatory identification and registration system for cats and dogs

a common definition of puppy and kitten farms in the EU

better communication, cooperation and training for customs and veterinary authorities

improved enforcement of animal welfare laws and tougher sanctions against suppliers of false pet passports.
The committee also expressed the need for EU breeding rules for pets, along with registers of authorised breeders and sellers, and the importance of encouraging the public to adopt rather than buy.
MEPs are expected to vote on the resolution at the plenary in February.