Contacts to Vetlife Helpline rise 416 per cent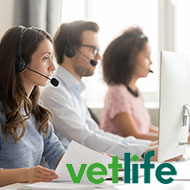 Charity seeks additional volunteers to meet increasing demand

Mental health charity Vetlife has reported a 416 per cent rise in calls to its Helpline over the last five years, with a record 3,117 contacts made by veterinary professionals in 2019 alone.

Vetlife supports the veterinary community via its 24-hour Helpline, Financial and Health Support Services. The Vetlife Helpline is a free and confidential phone and email service for vets, RVNs, students and all other members of the profession, supported by trained volunteers.

To meet the increasing demand for its service, an additional 10 volunteers were recruited in 2019, bringing the total number to 73. All of the volunteers have experience of the profession and provide a non-judgemental space for people to talk about whatever is on their mind.

"Vetlife Helpline has been supporting veterinary professionals for 28 years, and 2019 was our busiest year yet," said Rosie Allister, Vetlife Helpline manager. "61 per cent of our contacts this year used our confidential email service, and 39 per cent were by phone. We work closely with our professional mental health support service, Vetlife Health Support, to ensure people can access the right help."

She added: "We are continuing to increase volunteer numbers in 2020, and are grateful for the continued support from the profession to enable us to be there when people need us."

Joanne Drive, Vetlife operations manager, said: "You don't have to be a Member or donate to Vetlife to use any of our services, but we do need your help. Contacts to Helpline have risen dramatically over the past few years, and to make sure we are there for everyone who needs us we rely on our supporters. We are so grateful to all of our volunteers and those who donate, fundraise and join us as members."

Members of the profession who would like to support Vetlife can do so in various ways, either by becoming a Vetlife Member, via a donation or volunteering for the Vetlife Helpline or as an area representative. For more information, visit vetlife.org.uk.
The Vetlife Helpline is available on 0303 040 2551 or via email at https://helpline.vetlife.org.uk/