New DNA testing schemes for the Norwegian elkhound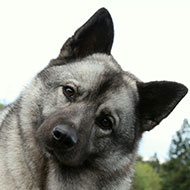 Schemes to combat primary open glaucoma and chondrodysplasia

Two new DNA testing schemes to combat inherited disease in the Norwegian elkhound have been approved by the Kennel Club.

The DNA testing schemes, announced following consultation with the breed clubs, are for primary open glaucoma (POAG) and chondrodysplasia (CDSL).

POAG is caused by inadequate draining of fluid from the eye and can lead to irreversible blindness. Until now there has been no means of clinically screening for the conditions, and clinical signs tend to first appear in middle-aged dogs, often after breeding age.

Chondrodysplasia is a condition that affects the development and growth of the skeleton, manifesting as a shortening of the limbs or disproportionate dwarfism. The severity of the condition varies among the species.

"The Kennel Club works alongside breed clubs and breed health coordinators in a collaborative effort to improve the health of pedigree dogs and is happy to accommodate a club's request to add a new DNA test to its lists," the Kennel Club said in a statement. 

"A formal request from the breed's health coordinator or a majority request from the breed clubs is normally required to do this. Test results will be added to the dog's registration details which will trigger the publication of the result in the next available Breed Records Supplement. 

"The result will appear on any new registration certificate issued for the dog and on the registration certificates of any future progeny of the dog, and also on the Health Test Results Finder on the Kennel Club website."

It is mandatory for the dog's microchip (or tattoo) number to be recorded along wither the dog's registered name or registered number on any DNA certificate. Test results that do not carry these features will not be included on the Kennel Club database.

To find out which laboratories the Kennel Club is able to record results from, and which labs will send results direct to the Kennel Club, to the worldwide DNA testing list at www.thekennelclub.org.uk/worldwide-dna-tests.
Image (C) Diane Pearce Collection/The Kennel Club.