Police confirm suspected cause of Anglesey starling deaths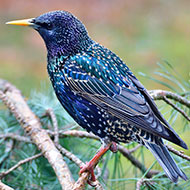 Bodies of hundreds of birds were discovered in December 2019

North Wales police have confirmed what most likely caused a group of nearly 300 starlings to mysteriously die in Anglesey in December.
The birds were discovered scattered on an unclassified road and in nearby hedgerows, but none were found in the surrounding fields. Some were still alive when the group was found but were visibly weak and unable to fly, dying shortly after.
The story sparked global interest, with people speculating on a number of causes, from bird flu, to 5G signals, to a sonic boom. Leading both the RAF and Vodaphone to release statements rejecting their involvement.
In a series of tweets published on the North Wales Police Rural Crime Team's twitter, the police stated that they are still awaiting toxicology reports, however "It's highly likely the murmuration took avoiding action whilst airborne, possibly [from] a bird of prey, with the rear of the group not pulling up in time and striking the ground."
According to the police, initial tests carried out by the Animal Plant and Health Agency (APHA) confirming trauma and internal bleeding as the cause of death, support the theory that the birds died from impact with the road.
35 starlings were taken for examination, one of which was found to have a ring on its left leg having been ringed in Lithuania in 2015, making it four years old and 1,662 km away from Anglesey from the point of ringing.