RSPCA outlines important recommendations at UK's last ever EU animal welfare meeting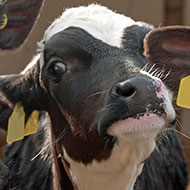 Government encouraged to maintain animal welfare standards

Following the final meeting of the European Parliament's Intergroup on Animal Welfare for UK members, the RSPCA has laid out five important recommendations for a free trade agreement with the EU.
Despite the Government's promises in its manifesto, the EU (Withdrawal Agreement) Bill currently contains no references to animal welfare. This has raised concerns regarding future trade deals between the EU and the UK, as there is no legal guarantee that animal welfare standards will be included.
The RSPCA's five 'red lines' for a free trade agreement ensure that animal welfare standards are protected. These include:
Continuing tariff-free trade, especially on food

An agreement from both sides to maintain standards. If one side improves standards, the other should as well

Mutual recognition of both side's regulatory processes. As an example, products tested on animals should not need to be tested twice for the EU and UK markets, as this creates a risk of increased animal testing

A common veterinary agreement between the EU and the UK. This would mitigate threats to animal welfare that may emerge from movements, checks and delays between the two areas

A 'transparent' process for resolving any trade issues that arise.
RSPCA head of public affairs David Bowles said: "We believe that [the recommendations outlined] are important principles for a free trade deal.
"We know there is public support for this - polls have shown 67 per cent of the public do not want products to be imported at standards illegal in the UK and 81 per cent said they wanted our animal standards to be maintained or improved.
"Even if these animal welfare standards remain in UK law, it is vital that in any trade deal, the UK does not agree to import products which are produced at lower standards, whether it is food, products tested on animals or how fish are caught. The result would be undercutting our own producers or industry, and would be a race to the bottom for animal welfare."