WSAVA launches certificate programme focusing on companion animals in One Health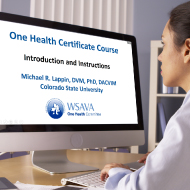 Course recognises growing significance of human-companion animal bond

The first certificate programme focusing specifically on the role of companion animals in One Health has been launched by the One Health Committee (OHC) of the World Small Animal Veterinary Association (WSAVA).
The online programme, which is free of charge for WSAVA members, has been developed in recognition of the growing impact of companion animals in human society. Pet ownership is becoming more popular globally, and this has increased the implications for One Health, regarding the human-companion animal bond. The WSAVA OHC hopes that this course will bridge the knowledge gap between veterinary surgeons and human physicians. New modules are being added weekly, with a total of 20 modules expected to be available by early 2020.
According to Emeritus Professor Michael Day, honorary treasurer of the WSAVA and chairman of the WSAVA OHC, the programme "will cover many aspects of companion animal One Health, including the human–companion animal bond, zoonotic infectious disease, comparative and translational clinical research, domestic violence and animal abuse, and modules on specific One Health issues, such as canine rabies, leishmaniosis and obesity."