RCVS Fellowship board chair elections get underway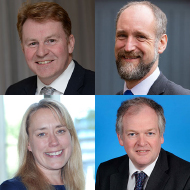 Voting for the 2019 RCVS Fellowship Chair election is now underway. This year four candidates are standing for election, including Dr Robert Huey, Professor John Innes, Professor Liz Mossop and Professor Ian Ramsey.

The Chair will attend and preside over Fellowship meetings and take the lead in consolidating the Fellowship's position as the learned society of the RCVS. Fellows will receive an email containing a link to the online voting form, as well as candidates' details and manifestos. Voting closes at 5pm on Thursday, 5 September.