NI vets praised for rapid response to ASF traces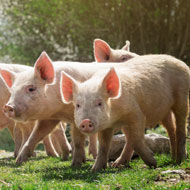 DNA fragments found in seized passenger luggage
BVA president Simon Doherty has praised vets and inspectors in Northern Ireland for rapidly detecting traces of African swine fever (ASF) in passenger luggage at airports.

DAERA announced last week that more than 300kg of illegal meat and dairy products were seized at Northern Ireland airports in June. A sample of these were tested at the Agri-Food and Biosciences Institute, revealing fragments of ASF DNA.

ASF can be easily transmitted in infected pork products and outbreaks have been confirmed in countries such as Belgium, Bulgaria and China. Northern Ireland has strict controls banning personal imports of meat and dairy products from most countries outside the EU.

Mr Doherty commented: "It's very encouraging to see that government vets and inspectors are united in their vigilance to prevent the incursion of this deadly disease. We are fortunate in Northern Ireland to have a surveillance facility like AFBI that can carry out quick and effective testing and continuous monitoring for disease risks.

"African Swine Fever poses a significant and growing threat to animal welfare and agriculture throughout all regions of the UK, so we need to continue to make every effort to curb its spread and raise public awareness of the risks of bringing animal products that may be carrying the disease into the country.

"The seizure of 300 kg of illegally imported products in June alone really underlines the scale of this important task ahead."

DAERA said that the discovery of ASF fragments in imported products does not pose a significant threat to Northern Ireland's animal health status. However, it underlines the importance of controls placed on personal imports of meat and dairy products.