Veterinary hospital first to trial new ankle surgery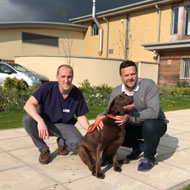 Three-year-old Vinny reported to be recovering well

A referral centre and veterinary hospital in Stockton-on-Tees has become the first in the UK to trial a revolutionary new ankle procedure.

Wear Referrals, which forms part of the Linneaus Group, carried out the inaugural operation on Vinny, a three-year-old chocolate Labrador. It is one of three clinics in the UK selected by American firm BioMedtrix for a clinical trial of their new ankle replacement system.

Vinny is now on cage rest and is said to be recovering well after his treatment.

Neil Burton, a recognised specialist in small animal surgery and head of orthopaedic surgery at Wear Referrals, said: "This was the first case of a BioMedtrix ankle replacement in the UK and we are delighted on two fronts.

"First of all, the operation went very well and Vinny is doing excellently at the two-month post-operative stage. He's off all medication, is walking well, there are no issues with the implants and the bone is healing uneventfully.

"We are also thrilled to be able to fly the flag as the first veterinary specialists in the country to undertake this surgical procedure."

During the three-hour operation, Dr Burton was assisted by Wear's senior orthopaedic surgeon Maciej Krukowski. The pair used the specialist prototype instrumentation to remove the damaged cartilage and bone in the joint, which was then replaced with the implant.

Vinny's owner Ben Reyer admitted it was a "leap of faith" to embrace the pioneering surgery but said: "Neil was very open and honest that this was the first operation of its type in the UK.

"He talked us through the whole procedure, what the outcome would likely be and, after talking it through, we felt pretty confident in him and the BioMedtrix system, so we were happy to go for it."
He added: "The operation went as planned and Vinny's doing well. He's had his post-op check and everything is progressing as expected. It's a very careful recovery process, though. We're not taking any chances and we are doing everything absolutely to the letter."
Image (C) Newsline PR