RCVS launches new initiatives to mark 175th anniversary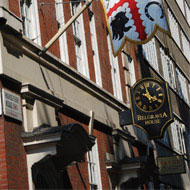 College to follow cohort of veterinary students over 25 years

The RCVS has launched a series of exciting initiatives to mark its 175th anniversary.

Among them will be a digital project to preserve and showcase the original petition letters from practitioners that led to the creation of its first Royal Charter. This will be accompanied by an interactive digital timeline of key events from the veterinary profession over the past 175 years.

The RCVS has also announced plans to commence a longitudinal research project that will follow a group of veterinary students over the next 25 years. It is hoped this will lead to a better understanding of students' initial hopes and aspirations and their following career choices and paths.

Monday (15 April) marked the 175th anniversary of the first meeting of the RCVS Council, which came about after the creation of its Royal Charter on 8 March 1844.

Frustrated with the quality of veterinary education at the time, two father and son veterinary surgeons from Staffordshire wrote a petition addressed to the Governors or the RVC, which was later distributed to other veterinary professionals to sign.

More than 250 veterinary surgeons responded with a letter agreeing for their signatures to be added to the petition. This then initiated the campaign for a Charter to create the RCVS.

RCVS CEO Lizzie Lockett said: "This first Royal Charter recognised the 'veterinary art' as a profession, established RCVS Council with elected members, and gave the College power to administer examinations, which students of the then veterinary colleges in London and Edinburgh had to pass if they wished to be styled veterinary surgeons and have the privileges of members of a profession.

"We are proud that, 175 years later, we are still fulfilling these original Charter functions, and considerably more besides. Take, for example, our Mind Matters and Leadership Initiatives, which may not have been envisaged at the time but ensure we continue to be relevant, and support a modern, forward-thinking profession."

She continued: "It's fitting that we are celebrating the 175th anniversary of when we were asked to address educational standards at the Royal Veterinary College in the year in which that establishment's veterinary degree course was ranked number one globally in the QS rankings."

Visit www.rcvs.org.uk/175 more information and regular updates about the College's 175th-anniversary celebrations.
Image (C) RCVS.