EI outbreak: Horse racing resumes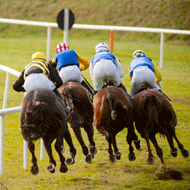 No further positive test results, BHA confirms
Horse racing in Britain resumed on Wednesday (13 February), after being suspended due to an outbreak of equine influenza (EI).

A total of 10 cases have been detected in vaccinated racing horses since last week. Racing was cancelled across the country after three initial cases were identified at an active racing yard.

Surveillance by the Animal Health Trust (AHT) revealed a further three cases at the same yard, and four cases at a separate yard in Newmarket.

Following the latest test results and consultation with its veterinary committee, the BHA announced that a risk-managed return to racing would take place, with strict biosecurity controls in place.

BHA's chief regulatory officer Brant Dunshea said: "After analysis of thousands of samples, and no further positive tests on Monday, we still only have two confirmed sites of infection. We have put robust containment measures in place around both.

"From the testing and analysis conducted the disease appears to be contained at present. The BHA veterinary committee believe that the swift controls on movement that were put in place have clearly helped to restrict the spread of this virus."

Dunshea acknowledged that there is "clearly some risk" attached to a return to racing. However, he added: "This risk has been assessed and, based on the evidence – and ensuring biosecurity measures are in place – the level of risk is viewed as acceptable."

BHA developed a risk framework to categorise trainers by the level of risk they were exposed to. Decisions about whether runners can return to racing depend on the risk categories the yards have been placed into.

No entries or declarations will be accepted from horses that have not been vaccinated in the past six months. Trainers will be required to provide a health declaration on arrival at racecourses.