Dog breeders urged to use pre-mating health tests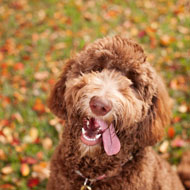 Test awareness especially low among owners of 'designer crossbreeds'
Dog breeders and owners are being urged to speak to their vet about pre-mating health tests as new figures show many clients with 'designer crossbreeds' or pedigrees are unaware of the available schemes.

Results from BVA's Voice of the Veterinary Profession survey show that 70 per cent of small animal vets often or always see puppies without the relevant pre-mating screening tests, such as the Canine Health Schemes. Awareness of the tests is exceptionally low among owners of 'designer crossbreeds', with 77 per cent of vets reporting that many owners have not even heard of the tests.

The figures come at the start of Canine Health Schemes Month which aims to raise awareness of the important part these schemes can play in improving canine health. BVA junior vice president Daniella Dos Santos commented:

"Vets in practice regularly see cases of debilitating and distressing inherited conditions, but we know that many people may wrongly believe these tests are only relevant for Kennel Club-registered pedigrees and that crossbreed owners may be especially unaware of the dangers.

"Pre-mating screening helps breeders make the best possible choices as part of a responsible breeding programme. If we want to reduce the suffering caused by painful inherited diseases, then these tests are key.

"Your local vet and the veterinary team are perfectly placed to have conversations about pre-mating tests such as the Canine Health Schemes. Prospective puppy buyers can also do their bit for dog health by using the Puppy Contract to ensure they're buying from a responsible breeder."

BVA's Voice of the Veterinary Profession survey Autumn 2018 shows 90 per cent of companion animal vets see cases of lameness of joint pain related to hip dysplasia and elbow dysplasia every month. The most commonly reported breeds with both conditions are Labradors, with popular Labrador crossbreeds also identified as frequently affected.

The survey also reveals that a third of vets see incidents of hereditary eye conditions at least once a month. An average of 11 cases treated per year most commonly involved spaniels and collies.