Racing body publishes review of Cheltenham Festival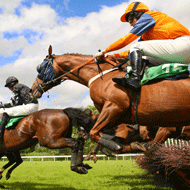 Review aims to improve safety after horse deaths at 2018 event
No single factor was definitively responsible for the deaths of six horses at this year's Cheltenham Festival, according to a review by the British Horseracing Authority (BHA).

The racing body launched the review following the festival in March. It investigated all races run at the festival between 2007 and 2018, involving 5,451 runners and 308 fallers, in a bid to improve safety and welfare.

Non-track factors, such as veterinary, participant and race condition factors were found to be of equal or potentially greater significance than track-related factors. Taking input from the RSPCA and World Horse Welfare, the 67-page report makes 17 recommendations to address these issues, including enhanced veterinary checks and targeted alterations to race conditions.

Brant Dunshea, chief regulatory officer for the BHA, commented: "The report itself has found that non-track factors are likely to be contributing to risk at Cheltenham, and the same may be true across all of Jump racing.

"For this reason this project has become a springboard for wider research to better identify risk factors in Jump racing, above and beyond the continuous programme of innovation and improvement which has made the sport significantly safer in the last 20 years."

Headline recommendations from the review include:
pre-race veterinary examinations should be increased, to include all runners in all races at the festival
reduce maximum field size in all two mile Chases from 24 to 20
remove all rider weight-claiming allowances in Martin Pipe Conditional Jockeys' Handicap Hurdle
BHA will engage with participants to further identify factors that contribute to risk
the industry must support a major research project to develop a predictive model for identifying risk factors for all jump racing, including horse history and performance, rider and training factors.
BHA said it will continue to monitor faller and injury rates at Cheltenham and other racecourses. If any risks are identified, the racing body will work with the racecourse in question to consider any action that can be taken to further improve safety rates.

Nick Rust, chief executive of the BHA, added: "British Racing must work together to reduce the risk of injuries occurring at The Festival and indeed Jump Racing as a whole. The recommendations of this review are designed to achieve this.

"I commend this review for the rigour and thoroughness of its approach. I also support the fact that its recommendations are intended to further raise the bar when it comes to welfare not only at Cheltenham, but across all of Jump racing."