RSPCA welcomes new powers for live exports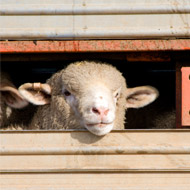 Government urged to embrace opportunity for change

The RSPCA has welcomed new powers granted to the UK that could lead to a ban on live animal exports.

In preparation for Brexit, the UK has been developing its animal welfare standards and, last week, powers were formally handed over to the UK's devolved authorities - giving them the ability to set their own rules on animal transport.

The RSPCA says that it would like to see the government use these powers to ban live exports for slaughter or at least improve the conditions of animals during transport. RSPCA head of public affairs David Bowles said that by setting our own regulations, we can ensure transport conditions for livestock far exceed those required under EU law.

"This is a landmark moment and may be viewed as a significant step in the UK's journey to take back control of its own laws," he said. "We would urge the Government to grab this opportunity now and make animals' lives better."

Among the measures the RSPCA would like to see implemented are more robust and transparent pre-journey veterinary checks to avoid transporting animals that are unfit to travel. The RSPCA would also like the government to set new journey times for animals being transported within the UK and to the continent.