Escaped snow leopard shot dead at Dudley Zoo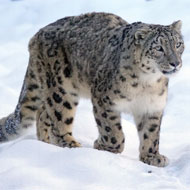 Human error led to a snow leopard escaping the enclosure
Dudley Zoo in the West Midlands has confirmed that an eight-year-old snow leopard, named Margaash, was euthanised after failing to return to its enclosure after escaping. The enclosure had been accidentally left open by a zoo keeper.
As soon as Margaash was spotted outside the enclosure, the procedure for escaped animals was activated and the firearms team were called.
Efforts to persuade Margaash to return to the enclosure failed, and public safety was deemed to be at risk due to the approaching darkness and surrounding woodlands. Veterinary advice deemed a tranquilliser dart inadequate due to the amount of time necessary for the drug to take effect.
Derek Grove, director of Dudley Zoo, stated: "Euthanasia is, and always will be, a last resort… Safety of the public is always of paramount importance and our staff are highly experienced and rigorously trained.
"This was an incredibly sad incident and our staff are understandably heartbroken."
A disciplinary operation has taken place with the staff involved. Zoo security is also being reviewed.
There are thought to be as a few as 4,000 snow leopards left in the wild. Margaash was the father of a snow leopard cub who died aged eleven weeks.
The Snow Leopard Trust commented: "Our thoughts are of course with Margaash; the snow leopard that was tragically killed, but also with the staff and volunteers of Dudley Zoo who must be in shock and grief.
"It's a great loss, and we hope the necessary measures will be taken to avoid any such tragic situation in the future."