Ebola outbreak in DRC 'second worst in history'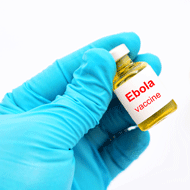 Country reports 440 cases since outbreak began
An Ebola outbreak in the Democratic Republic of the Congo (DRC) is the second largest in history, according to the World Health Organisation (WHO).

Peter Salama, WHO's deputy director-general, said on Twitter last week: 'The #Ebola outbreak in #DRC is now second largest historically. A sad toll, with too many families losing loved ones.

'@WHO and partners will continue to stand shoulder-to-shoulder with @MinSanteRDC to do whatever it takes to bring the outbreak to an end.'

As of 1 December, there had been a total of 440 Ebola cases in DRC, with 392 confirmed and 48 probable. So far, 255 people have died since the outbreak was declared around five months ago.

WHO said responding to the outbreak continues to be a challenge, but the Ministry of Health, WHO and partners are focusing their activities in areas where transmission continues - in Butembo, Katwa, Beni and Kalunguta.

Community engagement remains difficult in Katwa, despite significant progress. Improvements are needed to address the high proportion of cases that were not previously registered as contacts and therefore not followed up by surveillance teams.

Insecurity in the eastern part of the country has also posed a challenge in responding to the Ebola threat. In September, health workers were forced to halt vaccinations and tracing people who had been in contact with suspected Ebola patients, owing to a deadly rebel attack.

In a recent statement, WHO said the risk of the outbreak spreading to other provinces in DRC, as well as to other countries, remains very high.

The Ministry of Health recently announced that the first ever multi-drug Ebola trial will begin in DRC, to evaluate the safety and efficacy of drugs.

"While our focus remains on bringing this outbreak to an end, the launch of the randomized control trial in DRC is an important step towards finally finding an Ebola treatment that will save lives," said WHO director-general Dr Tedros Adhanom Ghebreyesus.