Future of 137 animals secured by RSPCA as animal sanctuary closes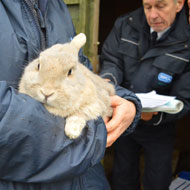 Lack of funds leads to closure of Capricorn Animal Sanctuary in Wales

RSPCA Cymru has successfully secured the future of 137 animals formally kept at Capricorn Animal Sanctuary in Padeswood, Wales.

The sanctuary, which has faced enormous financial hardship, was unable to continue taking care of the rescued animals. This pressure would have been intensified due to the vast array of species kept at Capricorn; many of which require complex and expensive care.

A total of 41 cats, 17 birds, 14 rabbits, 10 dogs, 10 hamsters, eight guinea pigs, five bearded dragons, five degus, five pigs, five ferrets, three snakes, two gerbils, one chinchilla and a goose were collected by the RSPCA and transported to boarding establishments and specialist centres. Each animal received an examination by a veterinarian before being transferred.

RSPCA Cymru commented that it would have been "exceptionally difficult" to supply the required level of care for such a large variety of species in a small sanctuary without enough donations from the public.

A statutory inquiry of Capricorn Animal Sanctuary by the Charity Commission led to Guy Hollander of Mazars LLP being appointed as interim manager of Capricorn in July 2018.
Hollander subsequently decided that the sanctuary was no longer viable and contact began with the RSCPA to start the operation of rehoming the animals residing at Capricorn.

The RSPCA are concerned about the lack of regulation of animal sanctuaries in Wales and have long campaigned for a change in the law.

"Many sanctuaries do a great job" stated Claire Lawson, RSPCA Cymru Assistant Director of External Relations. "But the lack of regulation is a major cause for concern."

Capricorn Animal Sanctuary is not under any RSPCA investigation.

If you wish to help RSPCA Cymru, you can donate online here.
Image (c) RSPCA