Brexit: Imported food must meet British standards in future trade deal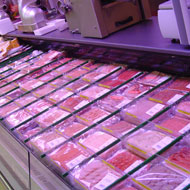 Inquiry into the Agricultural Bill takes place
An inquiry has taken place alongside the Agriculture Bill which investigates the provisions needed by the agriculture industry after Brexit.

Three key areas of the Agriculture Bill are focused on: future trade deals, fairness in the supply chain and the transition from the EU common Agricultural Policy (CAP) to a new system.

The Environment, Food and Rural Affairs Committee, who are leading the inquiry, is urging the government to "put its money where its mouth is" and accept that imported food products as part of any future trade deal must meet or exceed British standards regarding the environment, production and animal welfare.

Further conclusions by the committee include the recommendation that the proposed fair dealing obligations for first purchasers of agricultural products should be overseen by the Groceries Code Adjudicator, rather than the Rural Payments Agency.

The committee also noted its disappointment that it was not given the opportunity to analyse the Agricultural Bill before legislation was passed.

Comments from the chair

The chair of the Environment, Food and Rural Affairs Committee, Neil Parish MP, said:

"The United Kingdom currently has exceptionally high environmental and food standards and an internationally recognised approach to animal welfare. This legacy cannot be ripped apart by the introduction of cheap, low-quality goods following our exit from the European Union.

"Our suggested amendment calls for agricultural goods to be imported into the UK only if the standards to which those goods were produced are as high as, or higher than, current UK standards."

The full analysis of the Agricultural Bill can be read here.