No government plans to review fireworks legislation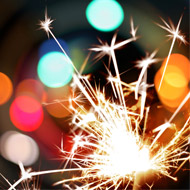 RSPCA renews call to restrict private use to traditional days

The RSPCA has renewed its call for the UK Government to strengthen the existing law on fireworks and restrict their use to traditional days of the year.

The call comes as a petition to restrict private fireworks receives more than 50,000 signatures in just four days. But while there has been a surge in people adding their voices to the campaign, the Office for Product Safety & Standards (OPSS) has told the RSPCA it has 'no plans' to review legislation.

RSPCA campaign manager Eloise Shavelar said: "Although the UK Government committed to looking at this issue in more detail, through the newly formed Office of Product Safety and Standards, ten months on in an official response, it has admitted it has no plans to do so. That's despite the clear widespread public concern shown by huge numbers of people signing petitions and writing to the Government calling for change.

"We want to see the UK Government listening to people and strengthening the existing law and restricting the use of fireworks to traditional days of the year like bonfire night."

The RSPCA says that it receives hundreds of calls every year about animals distressed by fireworks and wants to restrict private use on all but four days of the year - November 5, New Year's Eve, Chinese New Year and Diwali.

The charity also says that it would like to see the maximum permitted noise level of fireworks for public sale reduced from 120 decibels - above the human pain threshold for noise - to 97 decibels, which is likely to further reduce the stress to animals.

To date, more than 335,000 people have signed the petition, set up by the FAB Firework Abatement Campaign. A further 5,000 people have also responded to the RSPCA's campaign, which calls on the UK government to request a change to fireworks regulations.

The Office for Product Safety and Standards was set up in January 2018 after two Parliamentary debates about the negative impact of fireworks. Many months on, there has been little movement on the issue and the RSPCA now hopes that a debate will be arranged in Westminster to take the discussion further.