Achievement award goes to Ed Robinson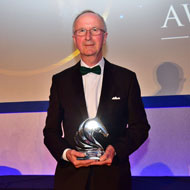 AHT recognises pioneering work in equine medicine

The Animal Health Trust (AHT) has awarded its outstanding veterinary achievement award to Dr Ed Robinson, for his pioneering work in the field of equine medicine.

Dr Robinson was the first person to carry out direct measurements of hoof blood flow. He also pioneered the study of recurrent airway obstruction (RAO) as a model of human asthma, and was the first to develop a two-horse model to study RAO - an idea that has become the standard model for studying the disease.

In addition to his clinical work, he founded the World Equine Airways Symposium and was founding editor of the key textbook Current Therapy in Equine Medicine. Publisher of more than 200 scientific papers, 10 textbooks and 140 book chapters, Dr Robinson also serves on 35 editorial and scientific advisory boards.

AHT said the award recognises his phenomenal contributions to veterinary medicine, which have also had an important impact on human medicine.
Image © AHT