Wild boar cull planned in Belgium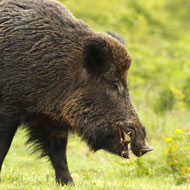 Move to prevent further spread of African Swine Fever
A cull of wild boar is being planned by Belgian authorities to prevent further spread of African Swine Fever (ASF).

According to the National Pig Association (NPA), some 114 dead wild boars have been confirmed with ASF to date - all of which were found in the restriction zone in the
Luxembourg region of the country

. When this figure stabilises, the NPA adds, the authorities intend to shoot the remaining wild boars.

Around 3,000 domestic and commercial pigs have already been culled in the Luxembourg restriction zone in a bid to keep the virus out of commercial pigs. Authorities will continue to test wild boars for ASF by sending samples off to Belgium's central laboratory, Sciensano, for diagnosis.

Despite pig prices taking a tumble as a result of export bans by non-EU countries, they are now reported to be stable. Farmers in the restriction zone whose pigs have been culled are set to receive compensation.