'Shocking' images captured from travelling dolphin shows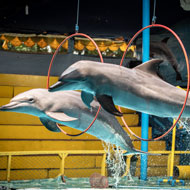 Government urged to ban 'abusive' shows in Indonesia

The Indonesian Government is being urged to put an end to travelling dolphin shows, after new images and footage uncover "shocking" abuse and exploitation.

Reports of these shows prompted the Born Free Foundation to send environmental photojournalist, Aaron Gekoski, to document them.

Images show dolphins being made to perform 'demeaning' tricks in makeshift pools. These dolphins and other animals are said to be frequently packed up and shipped to different locations around the country.

Dr Chris Draper, head of animal welfare and captivity at Born Free, said: "These are exceptionally complex and sensitive animals, perfectly adapted for life in the ocean.
"It is unbelievable that they are hauled like baggage from place to place as part of a pitiful travelling show, apparently under permit from by the Indonesian authorities.

"We are calling on the Government of Indonesia to put a stop to this once and for all, and to work with animal protection groups to find a long-term solution for the unfortunate animals who have been subjected to this abuse."

Born Free is asking people to sign a letter to the government, urging them to ban these travelling shows.