WWF calls on China to maintain ban on tiger and rhino products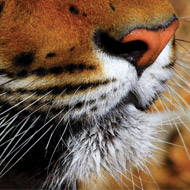 Charity says reversing ban would further confuse consumers

International wildlife charity WWF is calling on China to maintain its ban on tiger bone and rhino horn from captive-bred animals after The State Council revealed it will allow its use for some medical and cultural purposes.

Margaret Kinnaird, WWF wildlife practice leader, said she was 'deeply concerned' about the decision and that it will have "devastating consequences'. The new rules ban the sale, use, import and export of tiger bone and rhino horn. But under 'special circumstances', such as medical and scientific research, exceptions will be allowed.

"Trade in tiger bone and rhino horn was banned in 1993. The resumption of a legal market for these products is an enormous setback to efforts to protect tigers and rhinos in the wild," said Margaret Kinnaird. "China's experience with the domestic ivory trade has clearly shown the difficulties of trying to control parallel legal and illegal markets for ivory.
"Not only could this lead to the risk of legal trade providing cover to illegal trade, but this policy will also stimulate demand that had otherwise declined since the ban was put in place."

Rhino horn and tiger bone were removed from the traditional Chinese medicine pharmacopoeia in 1993. In 2010, the World Federation of Chinese Medicine Societies released a statement urging members not to use tiger bone or any other parts from endangered animals.

WWF says that even if restricted to medical use, reversing the ban would further confuse consumers and lawmakers as to when products are and are not legal - and could widen the markets for other tiger and rhino products.

"With wild tiger and rhino populations at such low levels and facing numerous threats, legalised trade in their parts is simply too great a gamble for China to take," Kinnaird added. "This decision seems to contradict the leadership China has shown recently in tackling the illegal wildlife trade, including the closure of their domestic ivory market, a game changer for elephants warmly welcomed by the global community."

WWF is now calling on China to set a clear plan and timetable to close existing captive breeding facilities. The organisation says that such facilities pose a high risk to wild tiger conservation by complicating enforcement and increasing demand in tiger products.