Hero assistance dog to receive prestigious award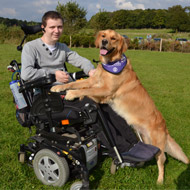 Golden retriever Ralph named IFAW's Animal of the Year

A hero assistance dog that transformed the life of his disabled owner is to receive a prestigious award from the International Fund for Animal Welfare (IFAW).

Three-year-old Ralph will receive the IFAW's Animal of the Year Award on Tuesday (16 October) for giving constant companionship and purpose to his owner, Paul Phillips, who is paralysed from the chest down.

Paul was 20-years-old and about to embark on a dream career in carpentry when he was involved in a serious car accident. The event left him with a severe spinal cord injury and, following many months in hospital, he was told that he would require round-the-clock care.

After his accident, Paul fell into deep depression. It was only after seeing another wheelchair user attending a football match with an assistance dog, that he realised that a dog could help him too.

Paul researched online and stumbled upon Canine Partners - a charity which pairs disabled people with suitable assistance dogs. He attended an open day where he met golden retriever Ralph, and an instant friendship was born.

"Ralph immediately chose me," said Paul, now 26. "He came in the room and when told to say hello he immediately jumped up on me and licked my face then sat by my side for the rest of the day.

"We had a two-week training course together and since then he has completely transformed my life."

Besides providing constant companionship, Ralph helps Paul with all sorts of daily activities, such as picking up items and fetching remote controls. He has even given Paul the freedom to move into his own flat and get back to nature in an off-road wheelchair.

"The main thing he's done for me is massively improve my health and outlook," Paul added. "I used to feel anxious about everything and stay in bed half the day or just play computer games.

"Ralph has given me purpose and made me more sociable. Before if I did go outside in my wheelchair, people would look the other way, but with Ralph by my side, people stop to talk to us and I feel more confident to do new things.

"I was so pleased to hear that Ralph is to get an IFAW award, as I think he has really earned it."

Commenting on the award, IFAW director Philip Mansbridge said: "Ralph is a genuine dog in a million. His remarkable and life-changing bond with Paul is testament to the amazing relationships between animals and people, and the positive difference animals can make to our lives. Ralph is a very deserving winner of IFAW's Animal of the Year Award."

Paul says that he is now looking forward to the day he can go away on holiday with Ralph - something he has not done alone since before his accident.

The Animal Action Awards will be hosted by Baroness Gale and presented by TV presenter Bill Oddie at the House of Lords on Tuesday, 16 October.
Image (C) IFAW.