Frogs may be able to co-exist with chytrid fungus - study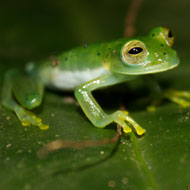 Scientists say infected and uninfected frogs survive at nearly the same rates

Tropical frogs may have developed the ability to coexist with deadly chytrid fungus, a new study suggests.

In just a few months in 2004, around half the frog species native to El Copé, Panama, went locally extinct due to Batrachochytrium dendrobatidis.

However, scientists now believe that the remaining species may have developed the ability to survive alongside the fungus.

A field study led by the University of Maryland from 2010-2014 suggests that frogs infected with the fungus survived at a nearly identical rate to uninfected frogs.

Scientists say that although there were lots of infected individuals, around 98 per cent of them are infected at very low levels.

It is thought that the frog population stabilised through 'eco-evolutionary rescue', whereby some species evolved tolerance to the fungus, while other highly infectious species died off and stopped contributing to the pathogen's spread. Scientists said the fungus may also have become less virulent.

"Our results are really promising because they lead us to conclude that the El Copé frog community is stabilizing and not drifting to extinction," said lead author Graziella DiRenzo. "That's a big concern with chytrid worldwide. Before this study, we didn't know a lot about the communities that remain after an outbreak. In some areas, it's still a black box."

Researchers say it is likely that other hard-hit frog communities elsewhere in the world may have undergone similar adaptations.
Image © Brian Gratwicke