New project to improve care of wounds in horses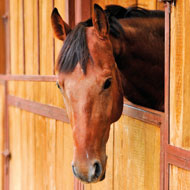 Horse owners asked to collaborate with researchers
Vets are asking horse owners to take part in a new project to improve the management of skin and flesh wounds in horses.

The Equine Wound Project was launched online by the University of Nottingham and the British Horse Society.

Although wounds are a common emergency problem in horses, there is currently no clear guidance for owners on which types need to be treated by a vet, how long different wounds take to heal, or if the horse will return to normal work. As a result, it can be difficult for owners to make informed decisions.

Horse owners are being asked to submit information, including photos, about their horse's initial wound, as well as the subsequent assessment, treatment and healing outcome. This will allow researchers to capture information on a wide range of injuries.

It is hoped that the analysis will result in new freely-accessible educational resources to support decision making, and improve owners' recognition and care of wounds.

Masters student, Richard Birnie, who will be working on the project for the next 12 months, said: "During my third-year research project dissertation on equine wounds, I could see that this is a research area that urgently requires more focused studies.

"Wounds have been described as the second most commonly treated condition in equine practice, so I found the significant lack of evidence-based data surprising. I am very grateful to have been given the opportunity to conduct a year-long study on equine wounds working closely with The BHS and horse owners.

"Valuable data collected could be the beginnings of important findings that could have widespread impacts on how both vets and owners manage and treat wounds in the future, ultimately aiming to improve the health and welfare of horses."