Road signs to highlight dangers of leaving dogs in hot cars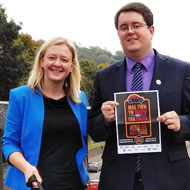 RSPCA hails move as 'great news for dogs'

Electronic road signs in Wales will soon display messages to motorists highlighting the dangers of leaving dogs in hot cars.

Welsh transport secretary Ken Skates said in a letter that he 'wholeheartedly supports' the conveyed message, and 'owing to the severity of the issue' will ensure that Variable Message Signs (VMS) in Wales will soon present bilingual warnings about the risk to canines of being left in hot vehicles.

He has proposed signs across Wales say: CEIR POETH YN LLADD CWN/DOGS DIE IN HOT CARS.

The move follows a campaign by RSPCA Cymru and Newport West Assembly Member Jane Bryant, who marked the announcement on Glasllwch Lane motorway bridge, Newport, on Thursday (4 October).

Jayne Bryant AM commented: "I'm really pleased that the Cabinet Secretary has listened to concerns raised by people across the county. Following some of the hot weather we had this summer it would have been fatal for any dogs left in cars. Owners who do this often do it without thinking. Awareness raising measures are extremely important."

RSPCA public affairs manager Paul Smith added: "This is great news for dogs, and a campaign success for the RSPCA that we think will have a big impact on canine welfare, and public understanding of a serious, potential animal welfare problem."
RSPCA Cymru says that it is inundated with calls each year about dogs left alone in hot vehicles. Figures released by the charity show that 29 per cent of dog owners still think it is acceptable to leave a dog in a car on a warm day.

"The dangers can be fatal and it is our simple message that 'not long is too long' for a dog in a hot car," Mr Smith continued.
"It's fantastic that the Welsh Government are eager to take action on this matter, support this campaign, and spread the message to a big audience of motorists, and passengers, that dogs can die in hot cars. We're also very grateful to Jane Bryant AM for supporting this idea, and ensuring those travelling by car in Newport, South Wales and beyond see this potentially life-saving message for dogs."