Governments back call to strengthen protection for Asian elephants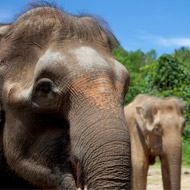 Investigation exposes emerging trade in Asian elephant skin
International governments have backed a call to strengthen laws that will lead to the better protection of Asian elephants.

Representatives of Born Free and Elephant Family informed delegates at a meeting of the Convention on International Trade in Endangered Species (CITES) of an emerging illegal trade in Asian elephant skin.

An undercover investigation by Elephant Family in Myanmar revealed that elephant skin is being turned into powder for medical conditions and beads for jewellery and sold through online Chinese language forums.

Speaking on behalf of Asian elephants in Sri Lanka, Mr Ranjan Marasinghe, head of enforcement of the Department of Wildlife Conservation said: "As a range state we are aware of the multiple threats faced by Asian elephants and are concerned that the skin issue will expand to all range states if not stopped."

The United States and the European Union were given approval for amendments to existing laws that protect Asian elephants, including a requirement for investigations into illegal trade and improved reporting on implementation.

"This is a big step forward for Asian elephants since the discussion at CITES is often dominated by African elephant ivory trade," said Elephant Family's conservation programme manager Caitlin Melidonis. "Our investigations helped shape the outcome of this important meeting but there is more to be done.

"Our job now is to ensure that the decisions outlined on paper translate to protection in the field."

Speaking on behalf of Born Free Foundation, Gabriel Fava, said: "These important developments must lead to better cooperation and coordination across range States and help to identify gaps in capacity. We look forward to supporting countries to address those needs and ensure a sustained enforcement response against illegal trade".