MSD found in breach of NOAH code on promotion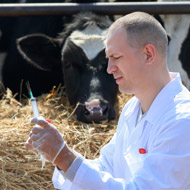 Breach regards promotional material for Bovilis BVD
Pharmaceutical company MSD Animal Health has been found to be in breach of the NOAH Code of Practice for the Promotion of Animal Medicines.

The breach is with regard to a promotional leaflet and advertisements for Bovilis BVD, a bovine viral diarrhoea vaccine for cattle. The NOAH Code of Practice Committee concluded that the tagline "P.I. or not P.I.? That is the question!" was in breach of Clauses 4.3 (i), (ii), (iii) and 4.6 of the Code of Practice.

Further details of the Committee ruling are expected to be made shortly and will be published on the NOAH website.