Life-saving feline crowned National Cat of the Year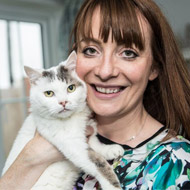 Theo kept his owner awake when she suffered a blood clot

A cat that helped his owner survive a fatal blood clot has been crowned National Cat of the Year 2018.

Eight-year-old Theo suffered cat flu as a kitten and survived thanks to 24-hour care from his owner, Charlotte Dixon. Theo was later able to reciprocate that care when he detected a blood clot passing through Charlotte's body in the middle of the night.

Theo pawed at Charlotte to prevent her from falling asleep - an action which is thought to have saved her life. But in a cruel twist of fate, Theo died a week before the awards, making his win all the more poignant.

"All cats are amazing but I owe my life to Theo. We always had a close bond and I feel this award is a truly wonderful way to celebrate his life," said Charlotte.

"When I woke up in the night feeling unwell, I put it down to a virus. I was confused and shaky but thought I should just get some sleep. Theo wouldn't let me and was behaving very strangely and out of character. He kept batting me with his paw, meowing and jumping on me - keeping me awake. Eventually, I decided to call my mum and she called an ambulance.

"The paramedic recognised the signs of a blood clot straight away and said it was a good thing I hadn't fallen asleep as I probably wouldn't have woken up."

Paramedics rushed Charlotte to hospital where she spent a week in the High Dependency Unit before making a complete recovery.

"I'm devastated that he's gone but I'm so proud of him for winning," she said. "It shows I'm not the only one who thinks he was a really special cat."

Theo was named National Cat of the Year by a star-studded panel of judges including actor Peter Egan, musician Rick Wakeman and broadcaster Andrew Collins.

Presenting an emotional Charlotte with Theo's trophy, Andrew said: "There's no greater, nor more selfless a bond than between Charlotte and Theo. That Theo was nursed to health by Charlotte and then he repaid her in kind is the epitome of the cat-human relationship."

The annual Cats Protection's National Cat Awards took place at London's Savoy on Thursday (2 August). The event celebrates real-life stories of heroism, loyalty and companionship in the feline world.

Image (C) Cats Protection