Breakthrough for global eradication of Peste des Petits Ruminants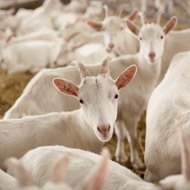 Researchers identify production systems as viral reservoirs
Researchers at the RVC have made a significant breakthrough in the global eradication of Peste des Petits Ruminants (PPR), a highly contagious disease that affects goats and sheep.

The team found the most effective way of eliminating the disease would be through repeated vaccination campaigns that target production systems acting as viral reservoirs.

"Identifying high-risk populations and tailoring vaccination strategies to local epidemiological contexts is essential," explained Dr Guillaume Fournié, a senior research fellow at the RVC. "This would not only reduce the cost of PPR eradication but also increase the likelihood of success by setting more achievable vaccination coverages."

PPR is a deadly disease that threatens the livelihood of farmers across Africa, Asia and the Middle-east. After the successful eradication of smallpox in humans and rinderpest in cattle, the Food and Agriculture Organisation of the United Nations and the World Organisation for Animal Health launched global efforts to eradicate PPR within the next 15 years.

Current PPR eradication strategy is reliant on mass vaccination campaigns. And while a vaccine that provides complete immunity does exist, it is expensive and difficult to administer due to a lack of access to small ruminant flocks and accurate census data.

In the study, researchers simulated the spread of PPR in Ethiopia using a dynamic model combined with the results of a nationwide serological survey. Armed with this knowledge, they were then able to single out the pastoral production system as a reservoir of infection from which the virus could spread.

The team could then estimate the vaccination coverage that would be needed to suppress viral transmission.

"PPR causes huge economic losses and a very large number of families in low- and middle-income countries are at risk of losing their livelihoods, food security and employment," said Dr François Roger from The Agricultural Research Centre for International Development, who initiated the study.

"Considering the limited budgets allocated to the control of PPR and the numerous field constraints, decision effective making-tools are essential".