First transmission of NDM bacteria between dog and human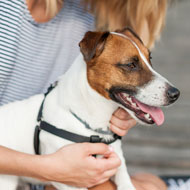 Researchers isolate highly resistant strain from family dogs and owner
Researchers in Finland have reported the first-ever transmission of New Delhi metallo-beta-lactamase (NDM) bacteria between a dog and a human.

In 2015, NDM bacteria were identified in two Finnish dogs. Now, writing in the journal Eurosurveillance, Dr Thomas Grönthal and his team reveal that the owner of the dogs also carried the bacteria.

Dr Grönthal explains: "We were able, through the analysis of the genome of the bacteria, to conclude that the bacterial isolates from the dogs and humans were identical, which means that they were transmitted between dogs and humans."

The study was a collaboration between the University of Helskini, the National Institute of Health and Welfare, and the Finish Food Safety Authority.

Researchers isolated a highly resistant NDM-5 producing bacterial strain from two family dogs and one of the family members. Both dogs and two members of the family also carried a multidrug-resistant ESBL bacterium.

The ESBL and the NDM bacterial strains researchers isolated from the humans and dogs were identical. However, the humans did not show any symptoms and the researchers were unable to identify the source of the NDM bacteria.

"We could not show with certainty in which direction the bacteria had transmitted, explains lead researcher Merja Rantala. "However, especially the NDM-bacteria probably moved from human to dog as these bacteria have not previously been identified in animals in Finland."

"The use of carbapenem antibiotics in animals is prohibited in Finland, but the dogs had received numerous other antibiotics. This gave the NDM-bacteria a competitive edge and enabled them to persist in the dogs."

This study is presumed to be the first in which researchers have shown the transmission of NDM-bacteria between dogs and humans. However, car­bapenemase-pro­du­cing bac­teria are becoming more common in animals.

Researchers recommend that laboratories investigating animal specimens should monitor the susceptibility of bacteria to carbapenems and extended-spectrum cephalosporins.