Veterinary Nursing Awareness Month 'a huge success'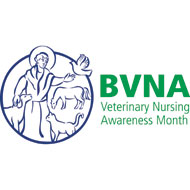 BVNA announces winners of three competitions

The BVNA has said it was 'overjoyed' with the response to this year's Veterinary Nursing Awareness Month, which ran throughout the month of May.

A social media campaign called for veterinary professionals to submit videos explaining why they could not live without their RVNs.

BVNA branded the awareness month a 'huge success', garnering over 2,200 new likes on the campaign's Facebook page. Posts were also shared in more than 47 countries.

Jo Hinde, VNAM committee chair, led this year's campaign. She said: "This year I was keen to try to broaden the reach of the campaign to all sectors of the veterinary profession as well as the general public.

"I am thrilled to see that we had engagement from colleges, corporate groups and suppliers as well as from a wide range of staff roles."

Nurses were challenged to take part in three challenges to help raise awareness of a veterinary nurse's role - create a display board, run an event and submit a selfie.

The winners across the three categories were:
Category A: Best Display
▪ Winner: Amanda MacDonald, Fraser & Fraser Vets, Dingwall
▪ Runner up: Heather Sparks, Eastfield Veterinary Clinic, Grimsby

Category B: Best Event
▪ Winner: Nikki McLeod, Albavet, Dunfermline
▪ Runner up: Cheryl Ramsbottom, Ashleigh Vets, Sale

Category C: Best Selfie
▪ Winner: Lauren Stowe
▪ Runner up: Helen Nashwalder

All winners and runners up will receive Love to Shop vouchers worth £25-£200.