Pigs 'could be a better model for human influenza'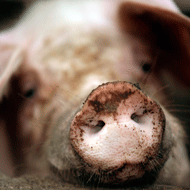 'Striking difference' to the same vaccine in pigs and ferrets

A new study has raised questions about whether ferrets are a good model for studying human influenza.

Ferrets are considered to be a gold standard animal model for influenza research, but scientists now say that S-FLU - a universal flu vaccine candidate - evokes different immune responses in pigs and ferrets.

Findings published in the Journal of Immunology suggest that pigs may offer a more faithful representation of influenza disease in humans.

S-FLU is a weakened strain of flu virus, designed to trigger a response from T cells that are able to react to multiple strains of flu.

Researchers found a 'striking difference' in the way that pigs and ferrets responded to the same vaccine. When administered to pigs, the vaccine activated a newly-identified type of T cell, against a flu virus of a different strain. Disease severity was reduced, but the amount of virus stayed the same.

When it was administered to ferrets, however, the viral replication was reduced, as was the amount of virus transmitted to other animals. Scientists said pigs provide a model that is closer in size and has a very similar respiratory system to humans. Pigs are also naturally infected with influenza viruses.

The team's discovery of a new type of T cell - tissue-resident memory T-cells - also sheds light on how influenza is fought in the lung.
The results also suggest that targeting the lower respiratory tract with aerosol vaccination could be more effective in preventing severe disease in pigs. This finding offers promising evidence that the same could be true in humans.